Vaughn-Blumberg Services (VBS) was formed as a result of guidelines established by Act 310 of the 1967 Alabama Legislature. Act 310 allows for the creation of a non-profit corporation to provide comprehensive services for individuals with intellectual disabilities/developmental delays through contracts with the Alabama Department of Mental Health (DMH), Division of Intellectual Disabilities.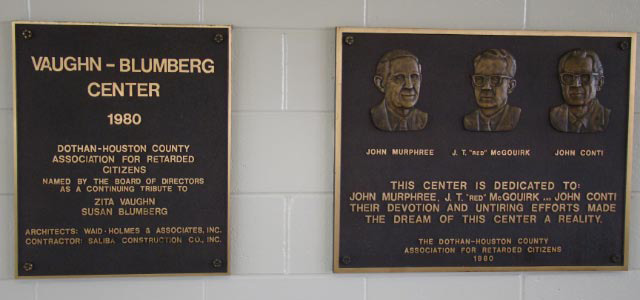 The philosophy which guides the planning, development, implementation, and evaluation of services for people with intellectual disabilities includes the following elements:
Individuals with intellectual disabilities are, first and foremost, people with basic human needs, aspirations, desires, and feelings; second, citizens of a community, who are afforded all the rights, privileges, opportunities, and responsibilities afforded other citizens; and finally, includes who happen to have a disabling condition.

People with intellectual disabilities are recognized as having diverse needs, concerns, strengths, motivations, goals, and abilities which can best be addressed through the coordinated and cooperative efforts of an inter-agency network of human services providers.

Family units, both traditional and nontraditional, are frequently the most important resource and support to people with intellectual disabilities.

The rights, wishes, values and needs of people with intellectual disabilities and family members are paramount in planning and operating the intellectual disabilities services system.

The system is sensitive to other members of the population with intellectual disabilities.

For the majority of people with intellectual disabilities, the natural setting in the community is the best place for providing services.

Local communities are the most knowledgeable regarding their local environment, issues, strengths or gaps in the service system, and opportunities.

Staff who work effectively with people with intellectual disabilities are highly regarded and valued resources of the system.
Stephanie McKnight
Executive Director
Dana Strickland
Associate Executive Director of CQI/Staff Development/Safety
Hailey Outlaw
Director of Human Resources
Samantha Jackson
Director of Nursing
Shannon Hilson
Associate Executive Director of Administration 
Chris Smith
Associate Executive Director of Programs
Peggy Payne
Director of Residential Services
Brett Cunningham
Director of Day Program Services